Services: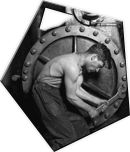 Service & Maintenance
Lins Elevator Service, Inc. can service and maintain nearly every type of elevator equipment manufactured with its knowledgeable and courteous staff and its large inventory of repair parts.
Upgrade & Modernization
From ADA compliance upgrades to full control and power unit modernizations, Lins Elevator Service, Inc. can bring your elevator equipment to a new level of reliability and performance.
New Installation
Lins Elevator Service, Inc. installs new non-proprietary elevator equipment of all types including dumbwaiters, residential lifts, commercial elevators and freight elevators.